Marvellous location directly at the Danube!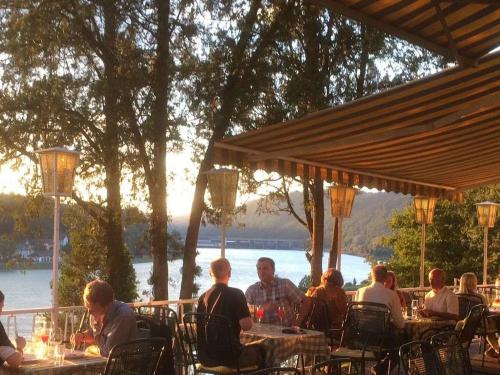 Our restaurant with the amazing Danube terrace is famous for culinary specialities from Upper Austria.

Dr. Faust's kitchen is keen to prepare everyone's favourite dish.
Beside the great menue, our regular guests appreciate the personal service from our family.

Wolfgang Zauner (boss and chef) spoils our guests with delicious fishes, asparagus, dumplings, game or steaks according to season.

Rudolf Zauner (boss and service boss) takes care of the rich range of chosen wines from Austrian wine-growers.
TISCHRESERVIERUNGEN unter +436643257204!
Best panorama view terrace at the Danube!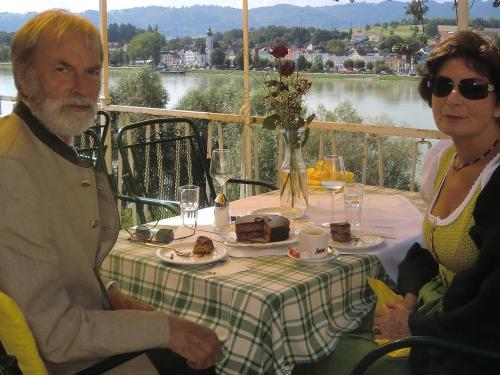 "Culinary delights at the Danube" - that is our motto.
Enjoy at the sunny side of Aschach the marvellous view, romantic evenings or culinary celebrations with friends.

In the afternoon, Segafredo coffee, sundaes and homemade cakes can be enjoyed and in the evening, a dinner for two with an unforgettable sunset awaits you.
Celebrations at the "Faustschlössl"!
Did you already make a reservation for your family party, wedding party, baptism or birthdayparty?
We can offer you the perfect frame for a succesful party. Experience a wonderful day with friends and family at our romantic "Faustschlössl". The fantastic location at the Danube, an excellent cost-benefit-ratio and the perfect organisation will fill you with enthusiasm.
Chimney room, Dr. Faust Stüberl, Klause....
We can offer the perfect premises for every occasion.
Whether weddings, baptisms, birthdays, family partys, receptions, business events or seminars; we can offer 5 different possibilities:

PANORAMA DINING ROOM (max. 40 people)
CHIMNEY ROOM (max. 24 people)
STÜBERL (max. 20 people)
KLAUSE (max. 16 people)
Panorama terrace (max. 85 people)

The restaurant can be booked for private events.