FISH DISHES until 14 March 2018!
Ab 4. Dezember 2019 beginnen unsere traditionellen STEAKWOCHEN.

Zusätzlich zu unserer klassischen Speisekarte servieren wir Ihnen verschieden Steakgerichte.
Küchenchef Wolfgang Zauner
und sein Team werden wieder saftige Steak`s vom österreichischen Rind aber auch von internationalen Lieferanten auf
unsere Speisekarte setzen. Bei Steak-Liebhabern wird das Herz höher schlagen.
Reservieren sie noch heute einen Tisch in unserem Restaurant.
Telefonnummer +4372337402 oder +436643257204
Culinary Highlights 2018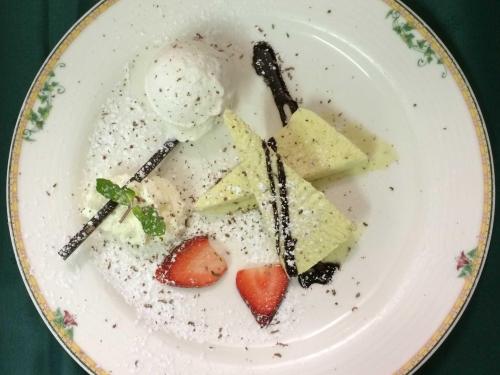 There are many highlights at the "Faustschlössl" around the year!

February/March: FISH DISHES from 14 February 2018
April/June: ASPARAGUS DISHES
July/August: MUSHROOM DISHES
September: AUTUMN DELIGHT at the DANUBE
Oktober/November: GAME DISHES
December: STEAKS

NEW YEAR'S EVE 2018/2019:
5-course New Year's Eve dinner incl. aperitif
midnight Waltzer dancing and fireworks at our panorama terace
and traditional pig's head meal at 12:30 am
for € 69,- per person.

If you need a room for the New Year's Eve/night, it will be € 50,- per person incl. breakfast from our buffet. (standard double room)
Reservation is necessary!
Gift vouchers from "Faustschlössl"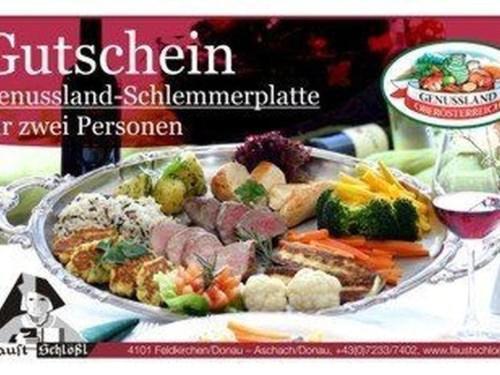 The perfect gift for gourmets!
Make somebody happy.

Our vouchers are the ideal gift for every occasion (Chirstmas, weddings, birthdays or business present).

VOUCHER VARIATIONS:

Gift voucher for a pleasant lunch or dinner in our restaurant. Value from € 30,- until …..,-. (there is no limit)

OR

Gift voucher for a romantic dinner for 2

4-course romantic dinner (2 main dishes to choose from) including our special aperitif called "Faust-secret".

Price for 2 people € 80,-
Price for 2 people incl. 1 bottle of wine € 100,-

OR

Gift voucher for a romantic weekend in our Dr. Faust-Mephisto-Suite
incl. 4-course candle-light-dinner and breakfast with sparkling wine
Price for 2 people € 260,-.

Gift voucher can be purchased directly at the restaurant. (only cash!)